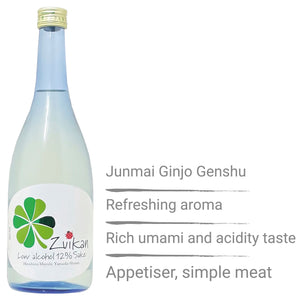 Zuikan Clover Junmai Ginjo Genshu 720ml
瑞冠 Clover 純米吟醸 原酒
A smooth, lower-alcohol ideal for new sake lovers

【Sommelier's recommendation】
Zuikan Clover Junmai Ginjo Genshu has a crisp, green apple aroma and a velvety-smooth texture. Its rich umami flavour is balanced by a refreshing sweetness and strong acidity – best enjoyed with meals.

Recommended glasses
・Burgundy wine glass
・Trumpet wine glass  
What is the best glass for sake?
Recommended Temperature
・ 15 ~ 20℃
How to chill/warm
【Product Information】
Alc: 12%Vol
Size: 720ml
Grade: Junmai Ginjo
Rice Polishing Ratio
Yeast: Zuikan No.1
SMV
Acidity
Amino Acid
€6550

€65,50
Tax included.
Shipping
calculated at checkout.
---
---