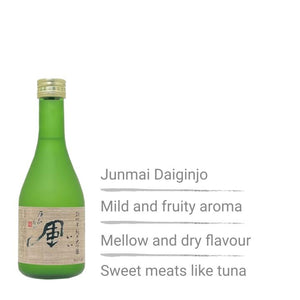 Iikaze Junmai Daiginjo 300ml
いい風 純米大吟醸
Fruity, elegant aroma with firm flavour thanks to the oldest sake rice Omachi

【Sommelier's recommendation】

Iikaze uses the oldest sake rice, Omachi, which is a root of many famous sake rice brands. The sake rice realises its mellow and dry flavour and Iikaze means 'pleasant breeze' which represents the refreshing umami blowing in your mouth.

Recommended glasses
・Burgundy wine glass
・Trumpet wine glass  
What is the best glass for sake?
Recommended Temperature
・ 15 ~ 20℃
How to chill/warm
【Product Information】
Alc: 15%Vol
Size: 720ml
Grade: Junmai Daiginjo
Rice Polishing Ratio
Yeast: Hiroshima Reiwa
SMV
Acidity
Amino Acid
€3360

€33,60
Tax included.
Shipping
calculated at checkout.
---
---