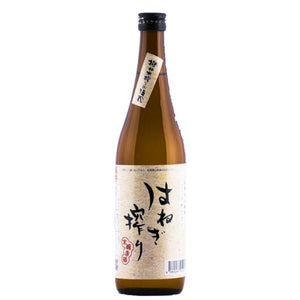 Bansho Hanegi Shibori Honjozo
萬勝 はねぎ搾り 本醸造
Silky and dry fruity sake thanks to the traditional method and natural flower yeast
Hanegi Shibori is a traditional pressing method using a long wooden arm that is used to press down like a lever on the sake mash which produces sophisticated, rich flavour and silky texture. Besides it uses a natural yeast from periwinkle flowers meaning 'friendship', so it's best to be enjoyed with friends!

【Sommelier's recommendation】
Floral and fruity aroma like a pear . Silky texture thanks to the traditional pressing method used and balanced bitterness like a grapefruit brings acidity.
Recommended glasses
・Flute glass
・Choko
・Kiriko
What is the best glass for sake?
Recommended Temperature
・ 15 ~ 20℃
・ 40 ~ 45℃
How to chill/warm
【Product Information】 
Alc: 14%Vol
Size: 720ml
Class: Honjozo-shu
Rice Polishing Ratio
: 70% (Gohyakumangoku)
Yeast: Nichinichi sou
SMV
: +4
Acidity
: 1.4
Amino Acid
: 1.1
€4730

€47,30
Tax included.
Shipping
calculated at checkout.
---
---